From mystical bouquets of colorful petals to wildflower meadows, flowers' stunning beauty and inspiring bloom has captivated our hearts for centuries. Now you can bring some of that spectacular flora into your every day with a flower-inspired makeup look! With just a few simple steps, you'll transform yourself into a flourishing Daisy Buchanan in no time—perfectly suited for outdoor events, beach days or beautiful night outs. Drawing on inspiration from nature's vibrant colors and textures, this blooming beauty look will surely become one of your go-to styles all year!
Create the perfect flower-inspired makeup look for your next outing
To create the perfect flower-inspired makeup look, you'll need to combine elements of color, texture, and shape. Start with a light base to even out your skin tone. Next, use a light foundation or tinted moisturizer, depending on your desired coverage. To add more dimension to the look, apply blush in a warm pink shade along the apples of your cheeks. Next, choose an eyeshadow palette that features soft pastels and earthy tones. Dust a champagne hue all over the eyelid for a subtle shimmer effect. Line both upper and lower lash lines with black liquid liner for added definition and use white liner for inner corners and waterlines for brightening up your eyes. Finish off the eye makeup by curling your lashes, then add a few coats of mascara. Add a bold lip color in either a bright pink or red-orange hue to complete the look. Finally, finish your flower-inspired look with shimmery highlighter on your cheekbones and browbone for an extra dose of glamour! With these steps, you'll be sure to turn heads wherever you go!
A spring-ready makeup look inspired by flowers and their colors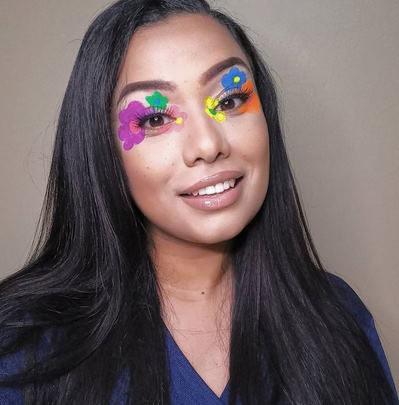 Start with a light coverage foundation or BB cream, followed by concealer to cover any dark spots or blemishes. Next, add some blush in either pink or peach tones for a touch of color on the cheeks. For eyeshadow, use shades of pink and lavender that bring out your eye color, then add mascara and eyeliner for definition. Finish off the look with a bright lip color such as red or coral to make your lips pop! Finally, don't forget to set everything with a translucent powder to keep it all in place throughout the day. A flower-inspired makeup look is perfect for springtime festivities!
By following these simple steps, you can easily achieve a beautiful flower-inspired makeup look for the spring season. It will make you feel fresh and vibrant, but it's also an easy way to add some color to your face and brighten your day! With just a few products and some time, you can create a look that is sure to turn heads wherever you go. So don't hesitate, try out this gorgeous makeup look today!